sale!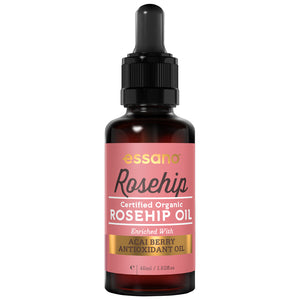 Certified Organic Rosehip Oil, enriched with Acai Berry. Proven to Hydrate and Renew for Radiant Skin. 
Nourish your skin with essential nutrients and antioxidants. 
Scientifically formulated to:
- Improve Skin's firmness and elasticity
- Aid in natural repair and skin renewal
- Reduce appearance of fine lines and wrinkles 
- Enhance skin tone and brightness
- Absorb quickly. Light and non-greasy. 
100% Natural & Certified Organic
45ml  
ingredients
+
Ingredients:
Rosa Canina (Rosehip) Fruit Oil*, Euterpe Oleracea (Acai) Pulp Oil*, Tocopherol (Vitamin E).
100% of the total ingredients are from natural origin. 99.5% of the total ingredients are from organic farming. Natural and organic cosmetic certified by Ecocert Greenlife according to Ecocert standard available at http://cosmetics.ecocert.com
how to use
+
Apply:
After cleansing, massage several drops into face neck or body, concentrating on any problem areas or skin damage. Apply prior to your moisturiser or sunscreen. USe morning and night in conjunction with your Rosehip skincare range.
Patch-Test Before Use.
ALL SKIN TYPES
Dematologically Tested.
I recommend this product
This is my new #1, ride or die skin care facial oil!
I just got this product a few days ago because the other facial oil I was using no longer exists. I am over the moon about this product I have insanely dry skin due to a medication I was on as a teenager for cystic acne I literally do not produce oil in my face at all whatsoever anymore I can't I do not have oil glands in my face... Just an FYI the medication I was on at the time is still on the market and it is a wonder drug for cystic acne however I was one of the guinea pigs to be put on the medication prior to its official release as a prescription medication which is how I have ended up with such problematic skin but now that same medication has been fine-tuned and perfected and doesn't ruin your face in the same way and at the same time my face is infinitely better than it ever was when I was a kid...
Anyhow, since I've started using this product I cannot tell you how much my skin has improved it is absolutely amazing it feels phenomenal on your skin I also have incredibly sensitive skin and this in no way whatsoever bothers it at all and I am going to just be totally honest until you that compared to the other facial oil that I was using this one is so so much better and it's actually a lot less expensive which is great and also goes really well with the facial mist moisturizer that I use prior to using this product which is also a rosehip based spray. And yes it is a standalone moisturizer however I do also use moisturizer and of course I use SPF because you would…
I don't recommend this product
Rancid
I got a bottle of this, and it smells rancid. Very disappointing, as I was replacing a different brand of rosehip oil.