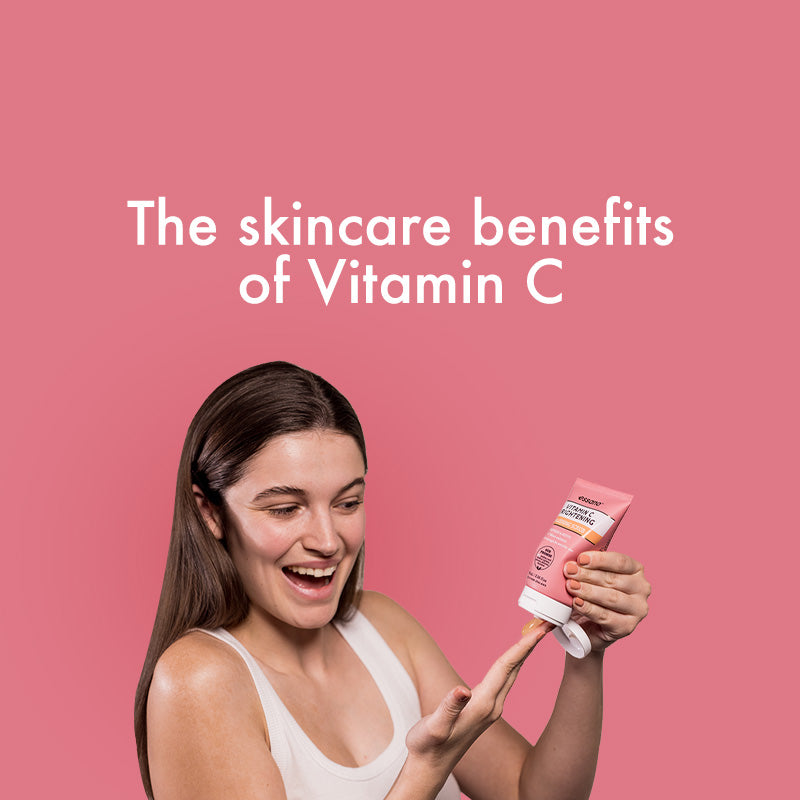 The skincare benefits of Vitamin C
Most of us know that Vitamin C is essential for good health. And if you like to keep up with all things beauty and skincare you'll also know that it's become a popular skincare ingredient. But why?
In this article we'll introduce you to the skincare benefits of Vitamin C so you can't start enjoying them for yourself.
What is Vitamin C?
The technical name for Vitamin C is L-ascorbic acid and of course it is found naturally in fruits and vegetables. And whilst many skin products contain the vitamin artificially, at essano we use Vitamin C from Mango, Papaya, Pineapple and Kakadu Plum:
Mango

aids in protecting your skin against free radicals. In particular, Mango can relieve clogged skin pores, preventing blemishes.

Papaya

contains vital nutrients such as magnesium and potassium. Papaya has anti-inflammatory properties, helping your skin cells repair.

Pineapple

helps to improve your skin barrier function, which is the outermost layer of your skin that filters out harmful pollutants. Pineapple can also reduce irritation and redness in your skin.

Kakadu Plum

is a fruit that originates from Australia and has a self-defense system designed to combat harsh Australasian rays. It is also the world's highest source of vitamin C and can contain up to 100 times more vitamin C than an orange!
Skincare Benefits of Vitamin C
As a skincare ingredient Vitamin C is a powerful antioxidant and anti-inflammatory, known to improve skin tone and texture. When used daily, Vitamin C can help to transform the appearance and texture of the skin by:
Preventing skin ageing and supporting the synthesis of collagen, which is essential for connective tissue such as skin.

Brightening the skin.

Limiting the damaging effects of free radicals.

Reducing redness.

Improving the appearance of wrinkles.

Diminishing dark spots.

Reducing acne.

Improving texture and tone of the skin.

Hydrating the skin.
Incorporating Vitamin C into your Daily Skincare Routine
Because Vitamin C can help to address such a long list of skin concerns, almost every skin type can benefit from it's application:
Dry and ageing skin

Oily and acne prone skin

Sun damaged skin
At essano we've made it easy for you to start enjoying the benefits of Vitamin C for your skin with our Vitamin C Brightening Radiant Skincare range. You may also like to consider applying Vitamin C to your skin in the form of a serum or facial oil. Here's some further reading to help you determine what's best for your skin.